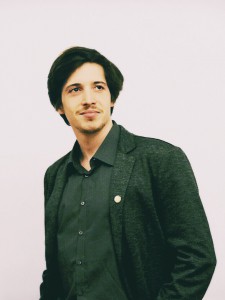 Born in Berlin in 1989, Alexander Liebermann is the winner of several composition competitions such as ASCAP's Morton Gould Award, GEMA, and 2013th Juilliard Orchestra composition competition. His music has been played in Europe, America and Asia by renowned artists, ensembles and orchestras such as fiddler Gilles Apap, pianist Philippe Bianconi, the RBO Leipzig, the Juilliard Orchestra with Jeffrey Milarsky, the Nice Philharmonics with Philippe Auguin and the Stradivari-Solisten with members of the Berlin Philharmonic.
Aside from that Mr. Liebermann also collaborated with artists such as painter Fabienne Verdier and choreographers from the Juilliard dance department.
Originally from France and Germany, Mr. Liebermann started playing the violin at the age of five and began performing with the Charlottenburger Jugendorchester at the age of 14. He began composition in 2003, and after three years of studies at the Musikschule Wedding in Berlin, enrolled in the Hochschule für Musik "Hanns Eisler" in Berlin, where he studied with Maria Baptist, Jörg Mainka, Arnulf Herrmann, Jürgen Ganzer and Wolfgang Heiniger. Since then, he also has interacted with composers Fabien Lévy, Brett Dean, Maria Schneider and Georg Friedrich Haas through lessons, workshops, and masterclasses.
Mr. Liebermann is a recent graduate from the Juilliard School, where he obtained his MA under the guidance of Samuel Adler and Steven Stucky. He was supported by the German Exchange Service (DAAD), IBU-tec, and the Gitta Steiner Memorial Scholarship. He currently is enrolled in the doctoral program of the Manhattan School of Music in New York City.